It's 4:45am….I know this because the alarm on my phone softly starts to play its melody slowly getting louder and louder until I roll over, pick it up, and swipe to the right. I rub my eyes, stretch and look out the window. The sun is still hours from rising as I watch the Seattle Ferry, all lit up, make it's majestic journey from Bainbridge Island to downtown Seattle. Filled with the first commuters from the island on this Wednesday morning.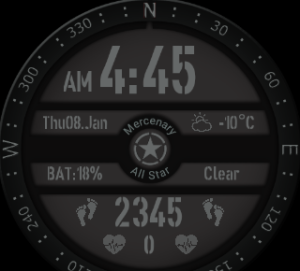 As I sit up in bed and my feet hit the ground I pick up my phone to check my updates. Even though I have been sleeping for six hours my assistant Motoy (a Moto X 2013 edition) has been working all night. A notification from the Delta app tells me my 7:12am flight to JFK this morning is on time, a notification from Tripit tells me my gate is now A4 and Google Now informs me that I should leave my house no later than 5:22am to make it in time for my flight.
As I get dressed I strap on Motoy's assistant 360 (Moto 360 watch). It's 5:07am and 360 shows an updated notification from Delta confirming that my gate is now A4. I swipe the notification aside, check that my heart rate is a calm 57bpm and finish getting dressed.
I head to my backpack, slide Macky (MacBook Air) into his slot, wind up the power cord and along with noise cancelling headphones, and my Nexus 9 slide them into their rightful place for today's trip.
Another quick glance at 360 to see it's now 5:15am and a notification from Google Now reminding me to leave before 5:22am to be on time for my flight.
I finish moving my suitcase and backpack to the front door before taking Motoy from my pocket flipping to the Uber app and requesting an UberX ride to the airport. "One moment please" the app responds and then tells me that Omar, my drive, is on his way and should be arriving in less than a minute. I add my destination of SeaTac Airport and slide Motoy back into my pocket and this blog post starts forming in my head 'How amazing is 2015?' I think to myself.
I quietly walk back into the bedroom, give my wife a gentle kiss on the cheek. She wakes and rolls over to greet me.
"You have everything?" she asks without opening her eyes.
"I think so" I whisper, "Have a great Friday". She smiles without opening her eyes. Even though it's Wednesday it's her Friday as a part time school counselor.
"Fly safe, K?"
"If they let me fly I promise I will" I say with a smile. A running joke between us as at one time I held a Microsoft Flight Simulator pilots license. Printed it off and framed it and had it hanging above my computer. The closest I'll probably ever get to becoming a real pilot.
"I'll Whapp (Term for using Whats App) you when I get there and call you before I take off."
"K….remember to listen." Always her last words of advice to me before I leave on a consulting trip.
"K….Bye"
"Bye"
I give her another kiss on the cheek as 360 vibrates on my wrist telling me Omar has arrived and is waiting for me on the street.
I make my way downstairs and find Omar waiting for me in front of our place. A quick glance at 360 and I know I'm right on time at 5:23am.
"To the airport?" Omar confirms.
"Yes please and can you take 99?"
Omar taps his phone and the route to the airport appears. As we start to move and turn the corner on to Wall Street, 360 gives me a gentle buzz again to let me know that I should arrive at the airport at 5:53am. How crazy is this I think to myself. My phone's GPS knows that I'm moving, guesses where or knows where I should be headed and then sends a notification to my watch to let me know when I should arrive? The technology behind this is….well….it's 2015.
I sit back, pull out Motoy and go through the night's emails. Two new people registered for COETAIL Online4, an email from Kim Cofino on my Eduro Learning account, and I clean out the junk mail that filled the inbox overnight. I quickly scan the messages and head to the Flipboard app to get the latest news on everything I missed. I read an amazing article on what Audi is doing with self-driving cars at CES2015 and think to myself poor Omar here is going to be out of a job in 5 years time. I flip through a couple more stories before we arrive at the airport. I say thank you to Omar and he wishes me a safe trip.
As I enter the airport I pull Motoy from my pocket, open the Delta app and click on my boarding pass. A QR code pops up on my screen confirming my seat number and gate. Crazy just a few years ago I predicted these little squares would be something and now they hold all the information I need to get through security at the airport and board my plane. A notification appears with my receipt from my Uber ride and I swipe down, give Omar a 5 star rating and close the app.
I walk pass all the other passengers checking in thinking to myself…if only they knew how to use this stuff they could save themselves time and trouble.
I walk through the Pre-Check security line (Getting Global Entry Status a few years ago was one of the best decisions I've made) not having to take anything out of my bag and stroll through security. As 360 comes out the other side of the scanning machine I strap him back on my wrist and see the time is 5:56am.
My morning airport routine begins. I head to Starbucks where I pull Motoy out of my pocket and open up my Starbucks app. I have to earn 5 more stars for a free coffee and don't have any other promo codes to use at this time. I click on the pay button and a barcode appears on the screen. I place my order and scan the barcode. I click the back button where instantly I see the money being taken off my Starbucks card and a notification appears that I have until 6:30am to leave a tip if I so chose. I start shaking my head as I realize I'll spend the whole day purchasing things with my phone.
I stroll past other travelers trying to find their gate on the big screens and with the confidence of a traveler who flies close to 200,000 miles a year head to my gate.
Once at my gate I pull out Motoy, click on my Google+ widget, and start scrolling through the news. After getting 360 for Christmas (Yes, I have the best wife ever) I joined a couple Moto 360 communities on Google+ to learn how to use it, how others are using it, and to keep up with the latest things developers are working on. I find a cool new watch face that has my heart rate and steps on the watch face itself. A couple clicks of Motoy's screen and the new watch face appears on 360. I then explore a developer I have been following who has been working on a Spotify app for 360. He's released a new update for beta testers so I download and install it. Love the look and can't wait to try it out later.
I browse through a few more apps and find a new one called Drink Well that allows you to track how much water you drink in a day. Something I've been trying to be better about. I scroll through the reviews and find people like the app and the biggest complaint is that it's created by a developer in Australia and the app only works in liters…something I don't mind overcoming and I think about how an app like this could help to teach students in the US about the metric system forcing them to convert on the fly. An interesting concept…….
As I'm browsing Google+ on Motoy, 360 gently vibrates letting me know there is a new notification. It's an update from Tripit that my 7:12am flight has now been delayed until 7:23am. Shortly after getting the notification the gate agent starts to make the announcement that the flight will be delayed…I smile to myself having already gotten this information minutes before. As the gate agent makes more announcements, I open up the Delta app on Motoy and see that I'm #1 on the upgrade list with 5 seats in business class available. With five minutes until boarding I walk up to the gate agent.
"Excuse me….have you processed the upgrade list yet?"
"No….sorry about that….let's see…..Mr. Utecht?"
"Yes"
"Is a window OK for you?"
"Yes…I prefer window seats" I say thinking to myself I wonder if they would have remembered to process the upgrades with everything else they have going on and how crazy is it that I can see up to the minute seat availability on my flight leaving in 15 minutes.
The gate agent hands me my new boarding pass as an announcement comes out that the WiFi on this plane is not working today. Ug….5 hours of work time gone. How fast I have come to expect WiFi on all my Delta flights and how I have even started to count on it when working. 'Oh…I'll do that on the plane' I tell myself when prioritizing work.
I board the plane, take my seat and call my wife to say I Love You one more time before taking off and let her know I'll Whapp her when I get to the hotel about 2pm her time. I hang up, drink the water that was waiting for me at my seat and read on the label that it is 251mL (so much for having to convert!). I open up my newly installed Drink Well app and add .2 liters to my daily drinking amount. Thinking how great this app is going to be to remind me to drink water throughout the day. I'm excited to see if I use it and how it works.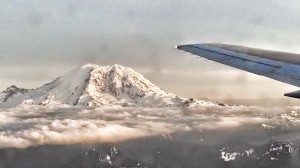 I sit back and enjoy the plane taking off….lifting through the morning fog at the airport and breaking through into a beautiful sunrise. Mt. Rainer appears out of my window, seeing the sunrise behind that mountain never gets old. I replay this morning in my head and decide that I'll use my disconnected time on the plane to write this blog post. To write just how amazing of a time 2015 is and the technology I use everyday makes life just….wow! It's not that I couldn't live without the technology, this whole day could have been done without it, however I love that it's here, I love that I have an assistant in my pocket keeping me up to date with what I need to know and now I have an assistant's assistant on my wrist making things even more seamless.
As we reach 10,000 feet I pull out Macky open up Google Chrome and click on the Google Doc app. I'll write this blog post offline here and as soon as I hit WiFi in my hotel room have it synced, spell checked, edited and uploaded to my blog in a matter of minutes. 2015…..what an amazing year this is going to be.