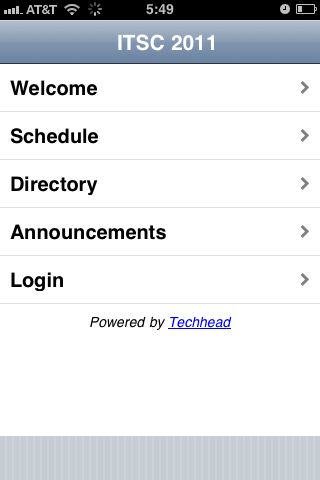 The ITSC conference kicks off today and in just a few hours I'll leave for the airport to make the….yes….45 minute flight to Portland, OR. I've been really impressed by the web based mobile app they created for the conference. It's built on HTML5 (the new code of the web) which makes it run smooth, fast, and on any modern device. The app looks great on a laptop, a phone or a tablet…exactly the way a web based app should work.
As presenters we can use the app to ask questions to participants, start a discussion question and post links. Because it's web-based the conference organizers can also push information out to participants quickly via Announcements or even create another section. I'm wondering if there would be a way to embed say the conference Twitter stream into the app as well. I'm hoping to pick the conference organizers brains about how they created the app to use in other conferences.
I think hope we're going to see more web based apps like this that really do capture the conference and allow people to participate all in one place.