Today I've been working with the first grade team preparing to created their e-portfolios for the kids.
We started off the year talking about how we could organize the photos and movies that would be taken over the year so that when it came to this stage of the process it would be as quick and easy as possible. With 30 days of school left the last thing teachers want is to spend their time learning a new skill.
So here's what we're doing:
1. In August we set up an Album in iPhoto for each student
2. As teachers and assistants took pictures and videos they put them into each students album
3. In iPhoto we then created a slide show
4. File – Export – Slideshow – Medium size
That's it……cute little e-portfolio for 1st grade students of pictures and videos throughout their year of learning.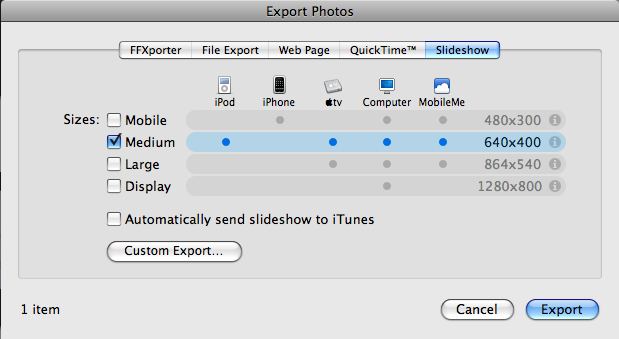 It took longer for the videos to render (about 15 minutes) then it did to do the whole rest of the process.
The key to the whole thing is starting in August with a plan of how to keep track and organize the photos and movies.
iPhoto makes this easy. As soon as a teacher connects their camera to the laptop iPhoto pops up and teachers could quickly drag the right photo into each students album.
Just another way of using pictures and media to record learning.