This article from The Guardian has been sitting in my inbox now for about a month. Waiting mostly for me to calm down so I can write about this halfway intelligently.
Let's start with this:
Andy Phippen, professor of social responsibility at Plymouth University, said sexting – where schoolchildren are encouraged to take explicit photographs of themselves and send to other pupils – was a problem in most schools, despite the study revealing that 89% of parents believe their child has not been touched by cyberbullying or sexting.

"There is a disconnect between how safe parents think they can keep their children online and their actual ability to do that," Phippen said. "Those conversations are not being had – we have a hell of a long way to go on internet safety. In schools we hear teachers unwilling to talk to teenagers about sexual images because they worry about their jobs, schools unwilling to record instances of cyberbulling because they are worried about their Ofsted reports."
Now add this:
AVG security expert Tony Anscombe said half of the parents consider a school's internet safety policy when making their selection, and 95% thought online safety should be mandatory in schools. "We know parents take responsibility of online safety seriously […] yet we're not living up to the standards we're setting by avoiding conversations about exposure to explicit adult content, privacy or other Internet-related threats," he said. "It comes as no surprise then that nearly 90% of parents aren't aware of whether their child has been exposed to cyberbullying or sexting – two of the most common internet risks facing children."
So where do we go from here? Well it should start with conversations both at home and at school. However, conversations at school are hard when the sites that we need to have the conversations about are blocked and do not allow us to teach about them. When we don't face websites like Facebook head on, we allow them to become places of Cyberbullying. You want to help decrease cyberbullying on Facebook? UNBLOCK it! Not one school that I have talked to has said that cyberbullying has increased once Facebook was unblocked. Instead cyberbullying decreases because:
We have shined a light on the dark corner
We can now talk about it in school
We can use it and show students how powerful of a tool it can be as well as how dangerous it can be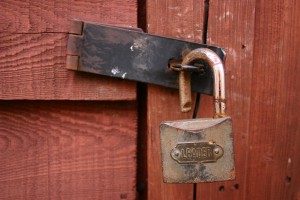 Two of the most common internet risks facing children are sexting and cyberbullying. Not predators on the Internet. By blocking sites, we are not keeping our students safe, we are giving them a place to hide. The online predator thing was and has continued to be an overblown idea since 2009 with this report (NYTimes article worth a read).
Yet when schools tell me "we need to keep kids safe" they more often than not are talking about online predators when really we should be talking about keeping kids safe from kids. That we can do by educating, but we can only educate if we are given the tools to educate with. Which means unblocking social-networking site and teaching students how to use them propertly.
Let's start by giving every student a public blog in say 3rd grade and then teach them what it means to be in public. Who can access it? Where does the content go? How does this all work becuase class after class that I visit from 4th grade through seniors in high school have no idea where their content goes when they click "Publish".
The survey of 2,000 parents carried out by AVG technologies and Plymouth University found 92% were confident about their ability to teach online safety. "People tend to think they are protected in some way, that there are parental fixes in place – but that is not always the case," said Phippen.
Let's get over this idea of "protection". The best way to be protected is to be educated. The best way to educate is to be in these spaces, understand them, learn how to use them, with an adult. Sure at my last school we had students misuse their blogs, but it led to a conversation to help that student understand. I would much rather have a conversation about how to use these sites properly in 4th grade before habits are set and they mess up their careers later in life. We're so worried about protecting that we are not educating.
The only way we are going to help solve this issue is through education. By unblocking sites we not only actually help educators do this, but we open up amazing learning opportunities at the same time. It's a win – win situation for everyone.