There are more schools this year rolling out iPad programs. I still have my personal reservations about these programs in high schools. But seeing that nobody asked me I'll give up on that argument for a moment.
Two programs have come across my radar lately. I want you to watch the media coverage of these two programs.
Full discloser…I have known Tim Wilson for many years as a blogger, a podcast superstar and just a great guy to hang out with. So it doesn't surprise me that when his district rolls out an iPad program that they have media coverage that goes beyond textbook replacement.
The other school, Gonzaga Prep (GPrep), is from Spokane, Washington…basically in my back yard.
Now I don't know how Tim's community is responding to the iPad program and I'm sure he'll be leaving a comment here letting us know how things are going.
However, I do know how the GPrep program is being sold. The iPads are seen by the community, and if you watch the video by the media, as a replacement for textbooks. Sure they mention apps…but really everything I hear makes me cringe.
In the Wayzata School District video, listen to how the iPads are sold, not as a replacement for books but rather a device that has limitless possibilites. Count how many times the word "Create" is used. Why is this word so important? Because it is what is at the top of Bloom's Taxonomy of Higher Order Learning.
Next I want you to re-watch the GPrep video with the SAMR model in mind. Here's an image to help frame this model of technology integration for you as you watch the video.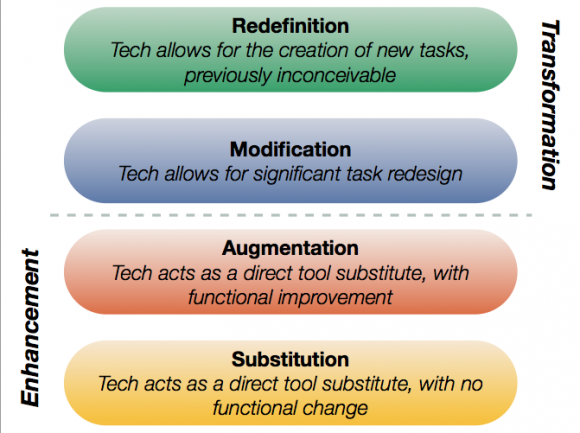 What do you hear? What do you see? Using this model of technology integration, which one of these programs do you want to be a part of? I even went to the required apps page for GPrep in hopes of finding something there to make me think these might be used for more than just textbook replacements….but really everything I am seeing is at a Substitution or Augmentation level of the SAMR model.
So here's the thing.
If you wanted a textbook replacement…that's great….but there are much cheaper devices that will replace a textbook than an iPad. 

Please do not expect your teachers to "teach differently" when everything that I am reading and can find about this program is about replacing not advancing learning. 
Am I picking on iPads…..maybe a little. But to be fair I pick on all 1:1 programs that put an incredible powerful device in the hands of students with the goal of not changing learning, not changing education, but rather replacing what we are already doing.