As part of the #EduroChallenge leading up to our Micro-Credential program launch, we wanted to pay tribute to the most important educators in a student's lives…their Parents. Nobody has more influence over a child in their lives than their parent/guardian does…and raising a child today is different.
Digital Parenting is No Longer Optional
It's a hard realization I find for many parents. Understanding there are things your child may be doing online that you don't know about, or maybe just don't understand. The following video is from one of the parenting sessions I did last school year for Everett School District.
This was just the first half of the night. At this point, the students left to do other activities and then I got to have some real heart to heart conversations with the parents in the room. We touched on some of the information I reflected on in this blog post, as well as other information on what children are really doing on their devices and why it is so important for schools to work with parents in helping today's generation understand Digital Literacy.
Kim, Chrissy and I are so passionate about this subject of helping schools, PTAs and parents everywhere, that we created six online courses for parents around the top concerns we have heard from parents and schools throughout the years of doing trainings. I truly believe these courses might be some of the best we have created so far and are so needed today.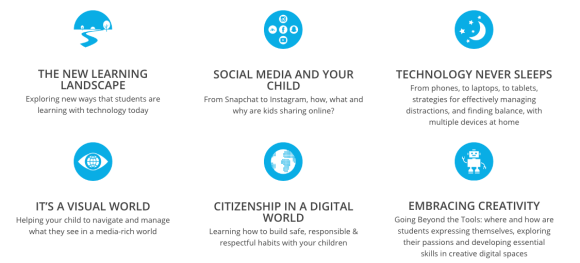 Each course focuses in on a different aspect of things to consider when being a digi-parent. We have interviewed parents from around the world to hear what strategies they are employing for their own kids, as well as readings. There is a private Facebook group that goes with the courses where all parents can share stories, ideas, and strategies that work for their families.
If you are a parent or know a parent these courses are for you. If you are a member of the PTA and would like to have us come and do a PTA presentation or work with you…we'd love to. We can even do a blended learning model where a school or PTA can become a member and we will come to your meeting or school once each course to lead discussions, talk through ideas and help support your community.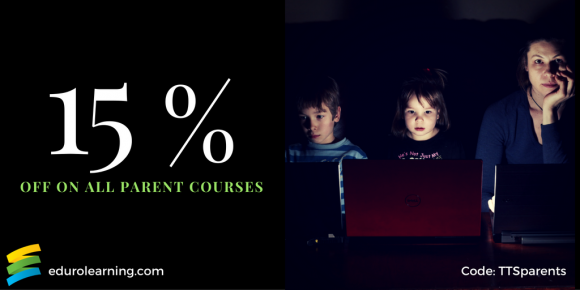 As part of our Micro-Credential #EduroChallenge and launch. If you purchase any or all of the parenting courses before October 15, 2017 you can save 15% on checkout using the code: TTSparents