The two best sessions for me at Edubloggercon today at ISTE2010 ended up talking about Networks and teaching how to use networks with students. For lack of a better term we called it "Networked Literacy"
I first started thinking about this back in August after reading Writing in the 21st Century by Kathleen Yancey (worth your time).
Based on that reading I created this diagram that looks at today's literacy development.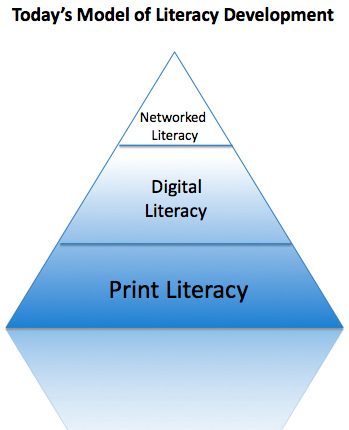 The pyramid represents the amount of time we spend teaching different types of literacy. Print Literacy is still the bases of our teaching in schools. Some of us and some schools are starting to bring digital literacy into the equation, but few of us are touching on or teaching Networked Literacy. In August as I started to think about this idea of Networked Literacy I came up with this working definition:
Networked literacy is what the web is about. It's about understanding how people and communication networks work. It's the understanding of how to find information and how to be found. It's about how to read hyperlinked text articles, and understand the connections that are made when you become "friends" or "follow" someone on a network. It's the understanding of how to stay safe and how to use the networked knowledge that is the World Wide Web. Networked Literacy is about understanding connections.
After today's conversation I think it's pretty close to what we were all thinking. It's the idea of teaching students that they have networks in Facebook and through other web connections. We need to teach them how to use those networks to spread their message. Today many of us ed tech people do the networking for students via our twitter accounts, our own blogs, and the whole of our PLNs. Students today have networks, the issue is most of them are blocked in schools. We do not think of them as idea spreading networks but instead as social-networks that students must be kept from during school hours.
Learning networks are Social networks.
There is not one of us here at ISTE that does not use Twitter strictly for learning. We share our days, our lives. We share jokes, stay in touch and communicate on things that are personal to us. If we are allowed to use our learning-networks for social connections why can't students use their social-networks for learning connections?
Of course Facebook is just a popular example. There are many other networks that we should be teaching students to use, networks to help them spread their message.
There's another part of Networked Literacy that we touched on today. The idea of using social-connections to curate information. It's asking your Twitter network for resources instead of Google, or asking your Facebook friends dinner ideas rather than looking up a restaurant yourself. Learning when to ask these networks for help and why you would you them rather than Google is a type of Networked Literacy we need to be teaching.
The conversations we had today are just the beginning. I'm looking forward to discussion this idea in the Blogger's Cafe in the coming days as I think we're starting to define a new powerful literacy that I hope we will be able to teach our students how to use.