It is less than 24 hours before I take off for Seattle and 2 1/2 weeks of relaxation. Between work and consulting/conferences I have not had two weekends off in a row since I landed back here in Thailand in August, and I've worked through every other holiday we've had. So I'm looking forward to disconnecting and spending time with friends and family back in Seattle this holiday season. So the blog will be quiet for the next couple weeks, but don't worry I'm sure I'll be active on Twitter, Foursquare, and Facebook (Internet connection already active in the condo).
So before I sign off until 2011 I wanted to stop and reflect on 2010…which in many different ways turned out to be a very good year.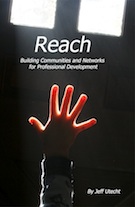 Sure…it was self published but I don't care. I wrote a freakin' book! Still crazy…even more crazy is I've given away over 4500 copies and sold 150 copies to date (thank you to those that bought it!). I still have to pinch myself to think I did this….I sat down…a guy who hates writing, isn't very good at writing, and wrote a book. If I can do it anyone can…that's for sure. What I think surprises me the most is how much fun I've had giving it away. Which already has me thinking about my next book or next free PDF document (see sidebar). Whatever it is that is next I do wonder if I'll ever "publish" in paper again.
Ability to Travel and Teach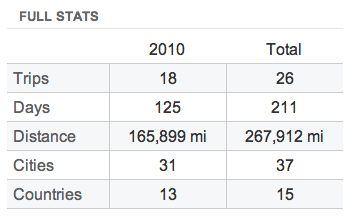 I've only been using tripit.com for a little over a year, but in 2010 I traveled 165,899 miles according to Tripit…and still have 8,000 miles to go tomorrow before my travel for 2010 is over. I'm lucky enough to work at a place that values my thinking and work ethic enough to allow me to travel and teach others, and I'm excited that I'll be back here next year to build on the foundation and relationships I've started working on here in the high school. I'm excited to see that two days ago I lost the foursquare mayorship for our school to an 11th grade girl. That and the launch of ISB Radio means we've got some geeks in the school and I'm exciting to pull them in and see what we can build and have fun with around social tools.
I love to travel…I love flying and I love teaching teachers. It's been a great year, although I think of all the presentations I gave this year my best one was done right here in Bangkok for the TEDx conference back in September (Video here). As educators we've all been there. The perfect lesson, the perfect day…everything just clicked….about 90 seconds into this story I was feeling it. The scary thing is afterwards my wife came up to me and said "You were feeling it weren't you?" She knows me way to well. I hope as 2011 rolls around I'll be able to do more presentations/more consulting…right now….that's where my passion is….helping teachers/schools near and far think about these kids in our schools today and how we need to be engaging them differently. I'm having fun motivating people….of all ages.
Top Blog Posts
Here are the top blog posts for The Thinking Stick in 2010 from Google Analytics:
1. Facebook
2. The Thinking Stick Home Page
3. Pre-Paid Data Plan on SIM Unlocked iPhone in the USA
4. Plan for SIM unlocked iPhone with data plan iOS 4.1
5. '11 the Year of the QR Code
6. Evaluating Technology Use in the Classroom
7. Online Community Manager: A New Position in Education
8. Best plan for SIM unlocked iPhone in the US
10. End of the Year Summative Assessment
Looking ahead
I have to say I'm just as excited about 2011 as I was about 2010. It's a great time to be in education…and to have your passion be technology. Things are changing so fast and I love the pace….I wonder what will happen if it ever slows down.
2011 will see a new theme to The Thinking Stick (in development now), as well as more travel (hopefully) with my now reduces 90% contract here in Bangkok.
It's a great time to be in education…and I'm excited to see what the new year brings.
Happy Holidays to all of you…thank you for reading…..and we'll see you in 2011!
Cheers,
Jeff