Create your own radio station
An amazing Web 2.0 site that I just found via the Infomancy blog.This site is amazing! Go to the site, choose an artist or song title that you like and the program will put together a radio station for you of songs similar to what you input. Creating your own personalized radio station. As the program plays songs you can add them to your favorites to hear them more frequently or you can delete them from your radio station never to be hear of again.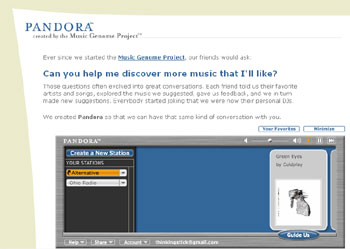 Web 2.0 puts the user in control of the information. You just dont listen, you create your own radio station. Chris tells how he used the site to introduce people to the concept of del.icio.us. The rest of Chris's post is great to so go have a read!
Technorati Tags: Pandora, online music, radio